Rhode Island Trolley Trail Sculptural Signage
The Charles Bergen-led team of Bergen, Bailey and Cherkasky have been selected via open competition to create this Sculptural Wayfinding Signage Project for the Rhode Island Trolley Trail. The signage uses the plan of the old Streetcar Round House that was situated at the end of the Streetcar Line in Prince George's County. A graphic of the Round House plan is already in use on the Trolley Trail as an identity graphic or logo. Using the Plan of the old Round House we created a medallion with the words "Rhode Island Trolley Trail 2017" around the perimeter. We placed these water jet steel medallions at eye level and fashioned a wide, sturdy base for them to sit on. This makes the round art pieces accessible and better connected it to its context. Arranged and spaced with the rhythm of railroad ties, slightly smaller horizontal tubes extend "through" and past the angled vertical tubes a little over an inch on each side. The cross tubes laterally brace the signage kiosk and divide the kiosk vertically into three parts. Thus, when viewed from the "Front" and the "Rear" the tube pattern evokes the rhythm and pattern of the trolley tracks that once ran along the Trolley Trail. The three-part vertical division of the kiosk references to the three adjacent communities—College Park, Hyattsville and Riverdale Park—that the completed trail will serve and where each kiosk will be placed.
TITLE: Trolley Trail Wayfinding Signage
DATE: April 2017 Installation
MEDIA: Painted waterjet cut metal with concrete footing.
DIMENSIONS: 7'-8" Tall x 3'-9" Wide
LOCATION: Hyattsville, MD
PARTNERS: Hyattsville CDC, Maryland Area Heritage Authority
BUDGET: $55,000 - $35,000 for the artwork, $20,000 for design, permitting, installation of footers
and artwork, signage and website design and fabrication by the Hyattsville Community
Development Corporation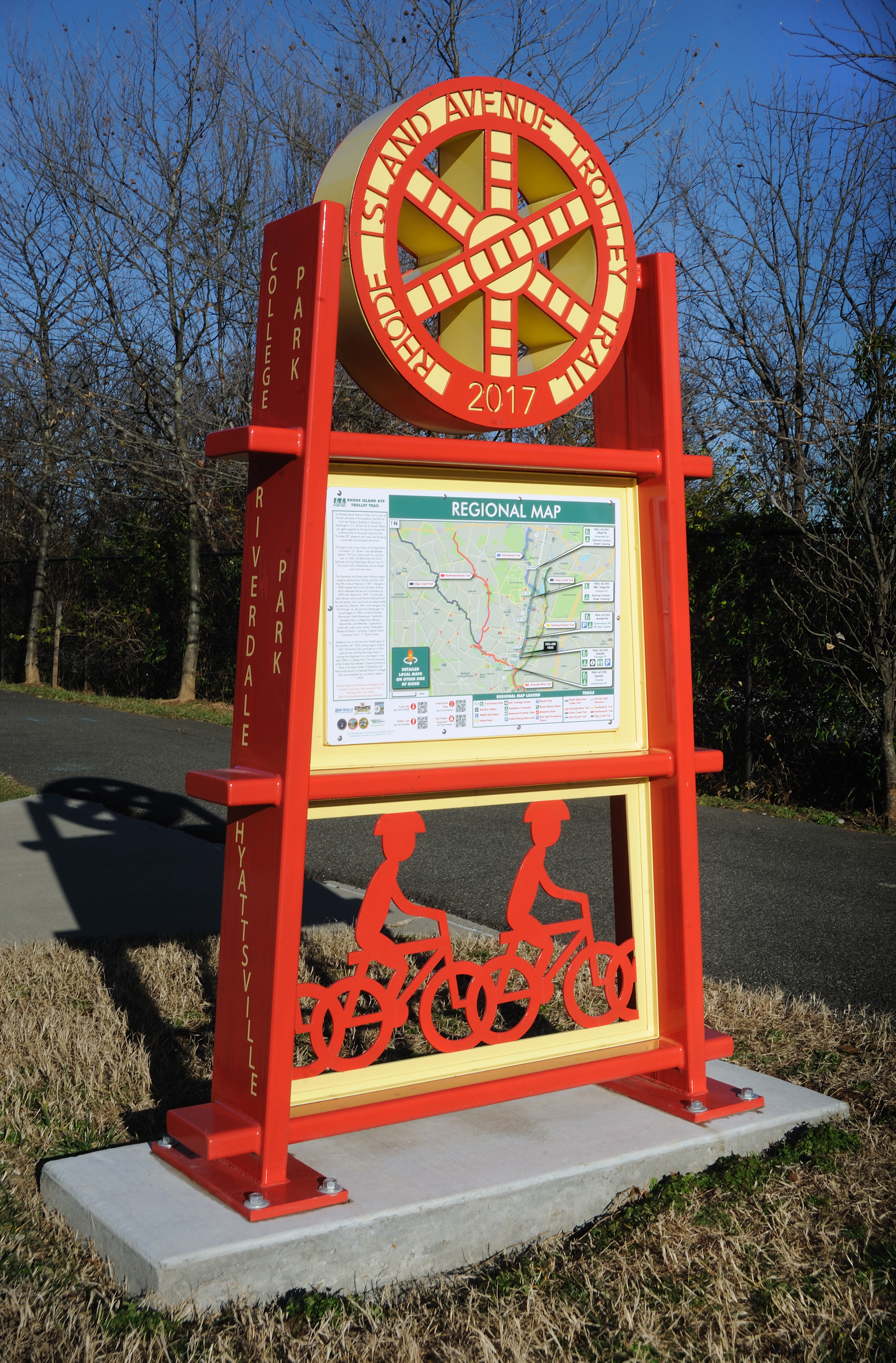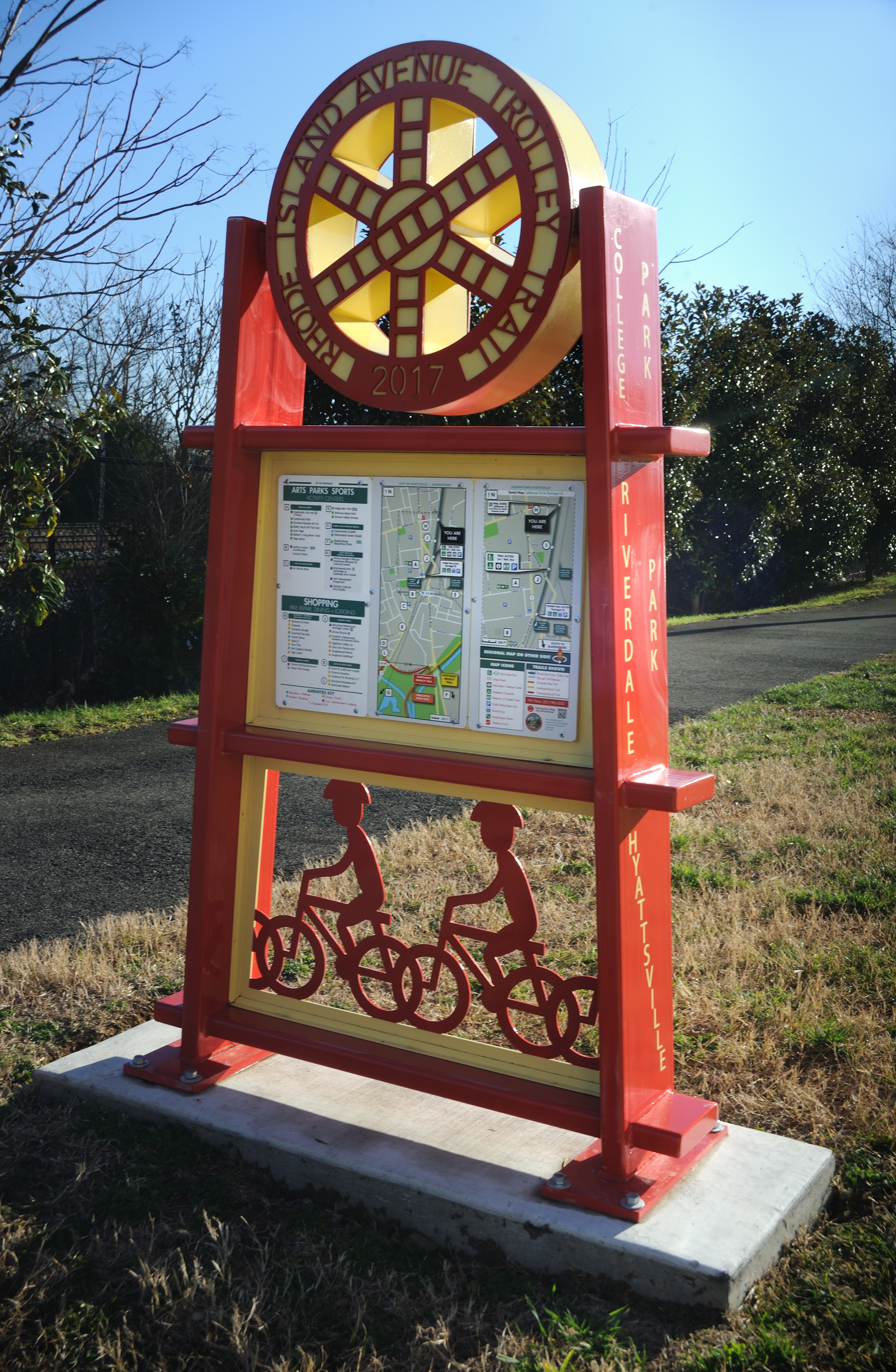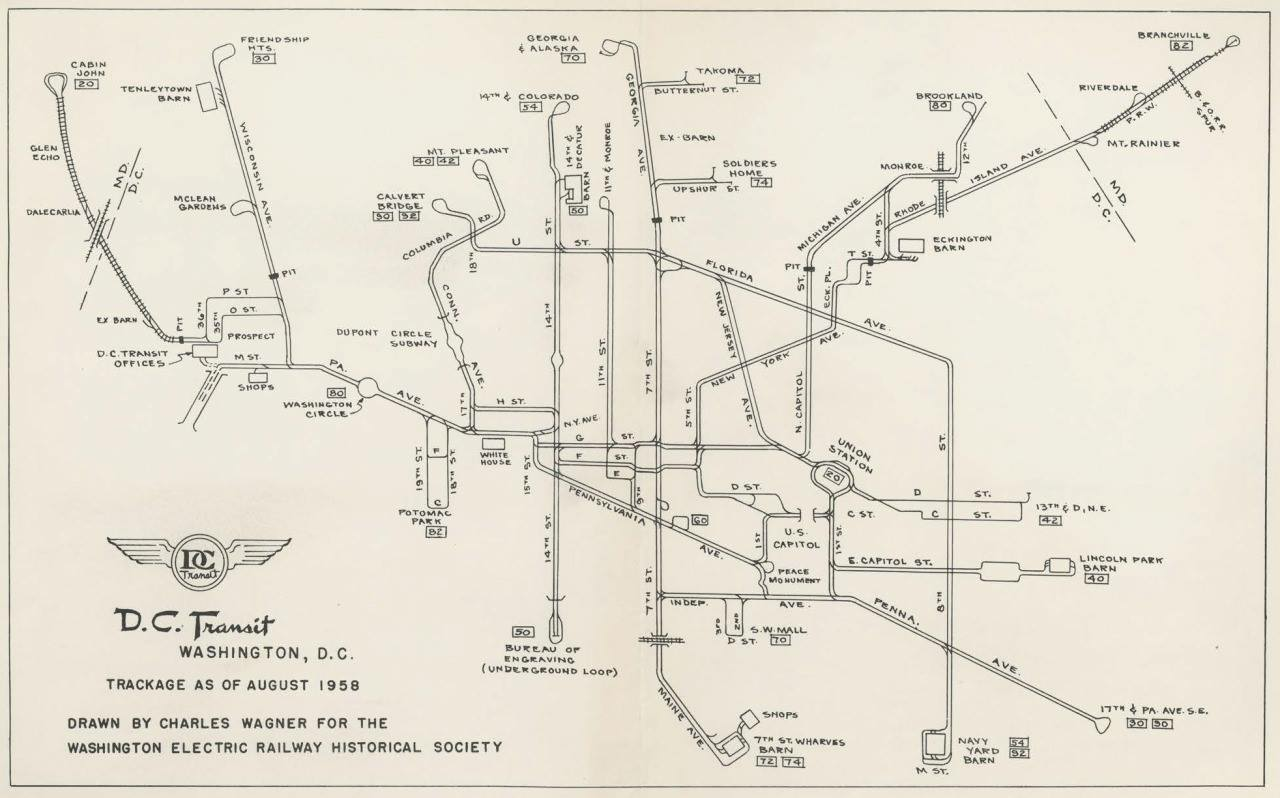 The download the full project sheet click here.