Theodore Roosevelt
The Bergen, Cherkasky, and Bailey Team worked to explain the larger than life personality and history of one of the great Presidents -- Theodore Roosevelt. This was done through the use of large historic photographs and paintings, a narrative text highlighting his many accomplishments, as well as with the bronze portrait bust that is to be cast at one-third larger than life.
TITLE: Theodore Roosevelt Portrait Bust and Historic Graphic Panels
YEAR: 2015
MEDIA: Laser print on vinyl. Bronze for portrait bust.
DIMENSIONS: 31" W x 82" H Graphic Panels 27" H Portrait Bust installed on a three foot tall table
LOCATION: Roosevelt Senior High School Historic Main Entrance Lobby (intended)
PARTNERS: Mara Cherkasky (Historian), Brandon Bailey (Designer), and Athanasi Papastolou (Sculpture Consultant)
BUDGET: $40,000.00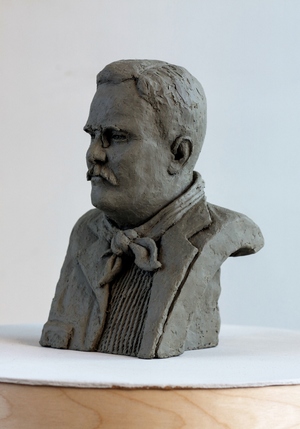 To download the full project sheet click here.